How does Atlanta Airbnbs Maintain Their Cleaning Standards?
Let's explore some important facts about
Airbnb cleaning standards
, and learn more about how to practice them!One of the most important factors influencing a vacation rental guest's experience is the property's overall cleanliness, especially given that we have just recovered from a life-threatening pandemic.The way we travel has changed, and many Airbnb hosts require additional guidance on how to protect themselves and their guests from post-COVID effects. In light of this, we've implemented mandatory safety practices that everyone in the Airbnb community is expected to follow.So, let's discuss Airbnb's 5-step enhanced cleaning process- Atlanta, GA briefly, in addition to effective tips to follow regularly.
What is Airbnb's 5-step enhanced cleaning process?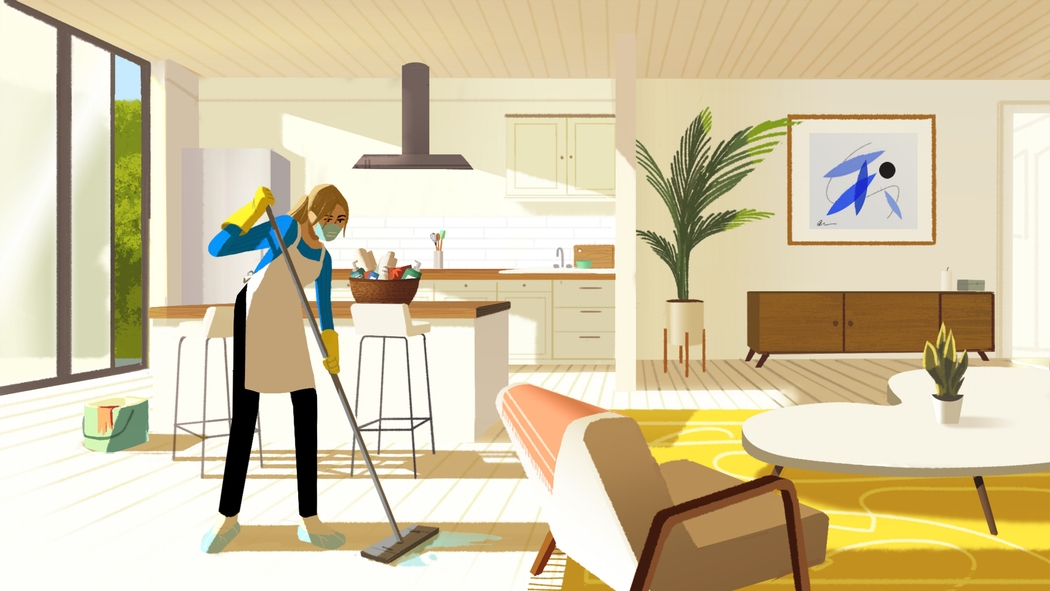 In addition to local laws and guidelines, the 5-step cleaning process is a set of cleaning practices that all Hosts are obligated to follow to ensure safe and secure staycation for their guests.
Step 1: Proper Preparation
Before and during cleaning, make certain that you ventilate the area affected by
COVID-19
before and after cleaning.Use disinfectants that have been approved for use against COVI-19 by your local regulatory agencies.Always carefully read the directions and warnings on your cleaning products.
Step 2: Clean Comprehensively
Cleaning is the removal of dust, dirt, and stains from surfaces like floors and countertops. After cleaning, it's also a good idea to wipe down hard surfaces with soap and water.Furthermore, before sanitizing, you must dust, mop, sweep, and vacuum the area. You can hire
professional Airbnb cleaners in Atlanta
to keep your rental property well-cleaned every time a guest checks in.
Step 3: Sanitize Properly
Sanitizing is the process of using chemicals to decrease microorganisms on things such as television remote controls and doorknobs.Spray each room's high-touch surfaces with an
authorized disinfectant spray
. Allow the disinfectant to stand for the stated time on the product label.
Step 4: Check Everything Properly
After you've sanitized the interior of your home, double-check that you're following the standard precautions in each room-by-room checklist in your cleaning manual.If you're throwing a party or event, be sure to go over the checklist again and share your best practices with your
Airbnb cleaning service
and hosting staff.
Step 5: Reset
In a hotel or hostel, clean and sterilize your equipment after each visitor changeover. Wash your hands before replenishing linens, cleaning kits, and guest supplies to help avoid cross-contamination. Do not re-enter a sterilized room; you will be entering the room for the following person's visit.
The best way to practice Airbnb cleaning standards regularly is to hire professional cleaning services in Atlanta, GA
Being a rental property owner is quite hectic already, you have a lot on your plate, a family to manage, and other duties too. Hiring a proficient Airbnb cleaning service like Happy Houses Cleaning Services can prove to be a great help in regular and quality cleanups of your property.What Does Our
VRBO cleaning service
entail?We can sync your Airbnb/VRBO calendar, and our cleaners will come and clean your place between a guest checking out and the new one checking in.We also take care of the Airbnb 5-step enhanced cleaning protocol and follow a specific checklist. As far as
Airbnb cleaning fee in Atlanta
is concerned, our rates are not only reasonable, but we do not demand any upsells or hidden charges as well.Contact us today and see get ready to boom the reputation of your vacation rental property with 5-star ratings and positive reviews.
Areas we are covering:
Atlanta, Midtown, Atlantic Station, Brookwood Hills, Alpharetta, Buckhead, Canton, Dunwoody, Sandy Springs, Chamblee, Cumberland, Decatur, Druid Hills, Emory, Lenox, North Lake, Marietta, Milton, Roswell, Smyrna, Tucker, Vinings, and Woodstock.
Contact us: 
Book us online:
https://atlanta.happyhousescleaningservices.com/book-now/
Contact us at
1-404-348-4727 for quick quotes, and bookings!
Is House Cleaning An Exercise  You don't have to be extreme to be healthy, just consistent. Being a working man or woman, you are already occupied with so many things, and you can't manage your workout, going to the gym and doing exercises. But by cleaning your home,...
read more
For Any Information/Query Feel Free to Contact Our Team!